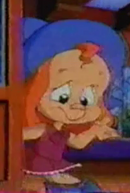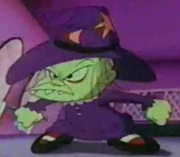 Witch Sandy is a cartoon character from the Warner Bros. animated television series Tiny Toon Adventures. She is a witch based on Witch Hazel, and had a one-time appearance on the show in the Buster's Directorial Debut episode segment, Fit to Be Stewed, a parody of Hansel and Gretel. She lived in a house made out of carrot cake and drew the attention of Buster and Babs. She tried to use the two in a recipe like Hazel, turning Babs into a real rabbit and summoning her cutlery to try and kill Buster, but she got turned into a goldfish. Sandy wears a cute disguise, but she is actually as hideous-looking as Hazel.
Ad blocker interference detected!
Wikia is a free-to-use site that makes money from advertising. We have a modified experience for viewers using ad blockers

Wikia is not accessible if you've made further modifications. Remove the custom ad blocker rule(s) and the page will load as expected.