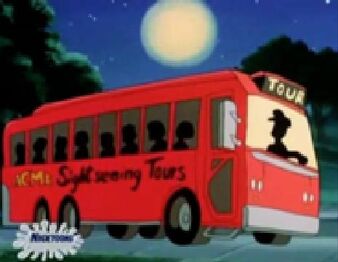 The Tour Guide (The Acme Acres Zone) is a minor character on Tiny Toon Adventures. He is voiced by Charlie Adler.
Appearance
Not much is known about the Tour Guide, except he is shown to wear a bus driver's uniform.
History
In the The Acme Acres Zone episode segment, A Bacon Strip, The Tour Guide is driving a bus of tourists and showing them Montana Max's estate, and tells them about a "naked pig", who is sneaking around the estate.
The Tour guide returns in the episode, Kon Ducki. When Hamton's grass skirt falls down, the Tour Guide passes by, once again telling the tourists about the "Naked Pig".
Ad blocker interference detected!
Wikia is a free-to-use site that makes money from advertising. We have a modified experience for viewers using ad blockers

Wikia is not accessible if you've made further modifications. Remove the custom ad blocker rule(s) and the page will load as expected.