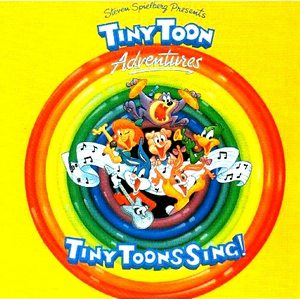 Tiny Toons Sing
is a 1992 album released by Warner Bros. Records on CD and audio cassette. It features the cast of
Tiny Toon Adventures
singing original and cover songs. The album has since been out of publication but tracks from it can be heard on YouTube.
Tracklist
1. Tiny Toons Around the World (The Tiny Toon Adventures Theme Song)
Performed by Buster Bunny, Babs Bunny, Plucky Duck, Hamton J. Pig and the Cast
Also contains lyrics in French, Spanish, Italian and Japanese by Arnold Pitbull, Sweetie, Plucky and Fifi, respectively.
2. Tiny Toons Rap
Performed by Buster, Babs, Plucky, Hamton, Sweetie Bird, Elmyra Duff, Montana Max, Shirley the Loon, Li'l Sneezer, Dizzy Devil and the cast
3. Don't Worry, Be Happy (originally by Bobby McFerrin)
4. Girls Just Want to Have Fun (originally by Cyndi Lauper)
Performed by Babs
Background vocals by Shirley, Sweetie and cast
5. Money (That's What I Want) (originally by Barrett Strong)
Performed by Monty
From Toon TV
Performed by Elmyra
Background vocals by Buster, Babs, Shirley, Monty and the cast
7. Daydream (originally by John Sebastian)
Performed by Shirley
8. Yakety Yak (originally by the Coasters)
From Toon TV
Performed by Plucky
9. Where the Boys Are (originally by Connie Francis)
Performed by Fifi La Fume
Background vocals by Babs, Shirley, Elmyra, and Sweetie
10. Dizzy (originally by Tommy Roe)
Performed by Dizzy
Gallery