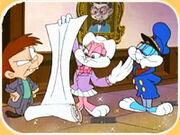 Biff and Buffy Vanderbunny are two recurring alter-egos of Buster and Babs Bunny, respectively. The name is a parody of the Vanderbilts, a wealthy British family.
Appearance
The Vanderbunny disguise is almost inconsistent with each appearance, while their voices remain the same. In their first appearances, Babs was dressed in a fancy purple dress and a dapper white hat, while Buster wore a yachting outfit and sunglasses. When they tried to get into Amblin Studios as the Vanderbunnys in Buster and Babs Go Hawaiian, they wore their normal clothes with the hats and Buster wearing eyeglasses. In their last appearance in the Best of Buster Day episode segment, Maid to Re-Order, their Vanderbunny disguise was more akin to their generic posh rich person personae in the Acme Acres Zone episode segment, A Walk on the Flip Side, with Buster wearing a Hefneresque robe and Babs wearing a blue dress and her ears done in a bun.
Ad blocker interference detected!
Wikia is a free-to-use site that makes money from advertising. We have a modified experience for viewers using ad blockers

Wikia is not accessible if you've made further modifications. Remove the custom ad blocker rule(s) and the page will load as expected.