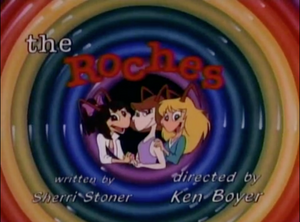 The Roches 
are an all-cockroach girl band who appeared in the 
New Character Day
 episode segment,
The Roches
.
Members
Maggie Roche: The oldest and leader of the Roches sisters, she has brown hair, brown eyes, and wears a light purple dress and light purple shoes. 

Terre Roche: The middle of the Roches sisters, she has blonde hair, blue-green eyes, and wears a long-sleeved blue shirt with a white V collar, a light green skirt and blue shoes.

Suzzy Roche: The youngest of the Roches sisters, she has black hair with a pink bow tied to it, and wears a pink shirt with a open white jacket, black shorts and pink shoes.
Trivia
The Roches are based on the live-action all girl/sister band, The Roches, Even their names and appearance are based on them
The Real Roches sisters did the voice of their bug counterparts.
Ad blocker interference detected!
Wikia is a free-to-use site that makes money from advertising. We have a modified experience for viewers using ad blockers

Wikia is not accessible if you've made further modifications. Remove the custom ad blocker rule(s) and the page will load as expected.