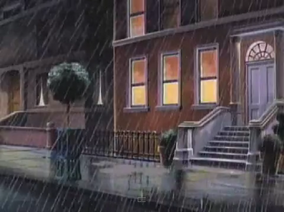 The Rich Girl's Apartment
is an location in
Tiny Toon Adventures
. It appears in the
A Cat's Eye View
segment
Homeward Bound
.
Appearance
The Apartment appears to be an home, which is located in the center of Acme Acres. In this house, The millionaire and his wife live with their daughter, two cats and the small kitten. It is large and contains two bedrooms, dinner room, kitchen and bathroom.
History
The apartment first appears at the begining of the cartoon. One day, the homeless Furrball sees the home, looks into the its window and observates the rich couple getting ready to go to walk with their daughter. After they leave, our cartoon character comes into the home. Inside, he meets the kitten and gets warm with her. But Furrball is seen angry by the small kitten's parents. When the millionaires come back, they refuse their daughter's pleasure to let her keep Furrball. When the blue cat is kicked out from the house, the Peasants and their son keep warm next to the rich family's apartment. The young boy looks into the window and observates the millionaires giving their daughter the dinner. But after the Rich Girl's Father pulls down the window shade, the sad boy goes to the end of the sidewalk. The Rich Girl's Apartment is last seen when the Peasants' son hugs Furball.
Ad blocker interference detected!
Wikia is a free-to-use site that makes money from advertising. We have a modified experience for viewers using ad blockers

Wikia is not accessible if you've made further modifications. Remove the custom ad blocker rule(s) and the page will load as expected.