"Did you say Elephant Tissues?"
—The Elephant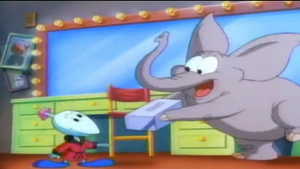 The Elephant
is a minor character on
Tiny Toon Adventures
. He is voiced by
Frank Welker
.
Appearances on the Show
The Elephant first appears in the episode, Elephant Issues in the wraparounds. In the first wraparound, when Gogo mentions he is going to ponder today's relevant issues, the Elephant mishears it as "Elephant Tissues" and brings Gogo a box of tissues. Gogo, who is not amused by the Elephant's tomfoolery, stuffs him in his vanity's drawer. After Gogo mentions that he is going to take a Tiny Toons look at burning issues in a fruitless attempt to win another Emmy, the Elephant opens up the drawer and brings him a box of burning tissues, which Gogo extinguishes. In the second wraparound, when Gogo mentions that getting along with other people is one of the more pressing issues of life, the Elephant brings him issues of Life Magazine, with Gogo on the cover. In the third wraparound, Gogo tells the viewers not to give into peer pressure. The Elephant has three different dares, the first two (jumping off a cliff and swallowing live porcupines,) Gogo ignores, but the third (running through the lion pit screaming, "Lunchtime", while wearing cold cuts), Gogo is unable to resist.
The Elephant makes a brief cameo appearance in the episode, Washingtoon, where he witnesses Gogo's tooniness being taken away by the Adults Against Funny Cartoons Chairperson's Toon Logic Extractor machine.
The Elephant makes one last appearance in the Night Ghoulery episode segment, Night of the Living Dull where he, along with Gogo, Sphinx, Pen Pal, Private Eye, and a Plunger hide out in a haunted mansion to escape from dull people.
Gallery
Ad blocker interference detected!
Wikia is a free-to-use site that makes money from advertising. We have a modified experience for viewers using ad blockers

Wikia is not accessible if you've made further modifications. Remove the custom ad blocker rule(s) and the page will load as expected.