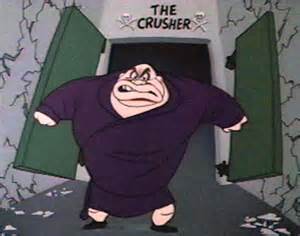 The Crusher is a Looney Tunes character who made his debut in 1948's Rabbit Punch as a boxer named "Battling McGook" and as a professional wrestler in 1951's Bunny Hugged.
Appearances on Tiny Toon Adventures
The Crusher made a special guest appearance in a Tiny Toon Adventures episode Tiny Toon Music Television featured in two music videos by They Might Be Giants: Particle Man (as a wrestler) and Istanbul (Not Constantinople) (as a henchman).
Gallery
Ad blocker interference detected!
Wikia is a free-to-use site that makes money from advertising. We have a modified experience for viewers using ad blockers

Wikia is not accessible if you've made further modifications. Remove the custom ad blocker rule(s) and the page will load as expected.