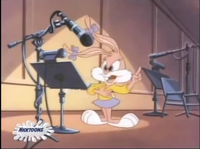 "This script stinks! It needs more comedy beets!"
This article is of a cast or crew member who worked on Tiny Toon Adventures who is still living to this day, and is written from a real-world perspective.
Stephen James Taylor is a Los Angeles based composer best known for his film and TV scores with 4 Emmy nominations ('93 and '97), 2 Annie nominations ('99 and '00) and a DVD-X Award on Best Original Score (for a DVD Premiere Movie) to date ('05).
He composed the music for Tiny Toon Adventures: How I Spent My Vacation.
Ad blocker interference detected!
Wikia is a free-to-use site that makes money from advertising. We have a modified experience for viewers using ad blockers

Wikia is not accessible if you've made further modifications. Remove the custom ad blocker rule(s) and the page will load as expected.