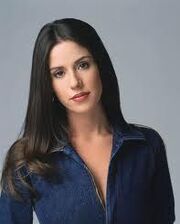 Soleil Moon Frye
(born August 6, 1976) is an American actress, director, and screenwriter.
Frye began her career as a child actor at the age of 2. When she was 7 years old, Frye won the role of Penelope "Punky" Brewster in the 1984 NBC animated sitcom, Punky Brewster. While the show suffered from consistently low ratings, the character of Punky was a hit with young children. After NBC cancelled the series, it was picked up for two more seasons in the syndication market, ending in 1988.
She voiced Amanda Duff on Tiny Toon Adventures.
Role(s)
Ad blocker interference detected!
Wikia is a free-to-use site that makes money from advertising. We have a modified experience for viewers using ad blockers

Wikia is not accessible if you've made further modifications. Remove the custom ad blocker rule(s) and the page will load as expected.