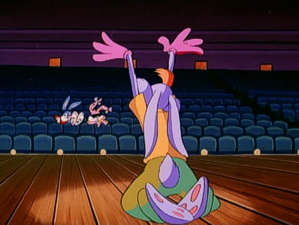 Roger Rabbit is an anthropomorphic rabbit who is the deuteragonist of the Gary Wolf novel, Who Censored Roger Rabbit? and its 1988 live-action/animated Disney/Spielberg movie adaptation, Who Framed Roger Rabbit. He made two appearances in the Tiny Toon Adventures episodes, New Character Day, and Buster and Babs Go Hawaiian.
Appearances
New Character Day
Roger makes a cameo in the opening wraparound of the episode, New Character Day when he performs in front of Buster and Babs to be a new character on Tiny Toon Adventures, but he was rejected.
Buster and Babs Go Hawaiian
Roger makes his second cameo appearance in the episode, Buster and Babs Go Hawaiian. When he and his wife, Jessica Rabbit appeared at the Warner Bros. Studio and were greeted by Ralph the Guard. Roger pulled Ralph's tie and pushed him on the ground (even though we only see his arm when he did that).
Trivia
Three things were different about Roger then what he looked like in both cameos;

In New Character Day, he is shown to have darker fur, wearing a yellow t-shirt and dark pants instead of the red overalls, and wearing pink gloves instead of yellow ones.
In Buster and Babs Go Hawaiian, when we see his arm, his glove was light grey instead of yellow.
In both cameos he is voiced by Steven Spielberg and Frank Welker.

Besides Roger's two cameo appearances, numerous references to Roger Rabbit have been made on Tiny Toon Adventures;
Gallery