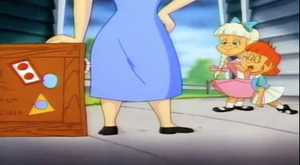 Rhoda's Mother
(or Mrs. Queen) is a one-time character on
Tiny Toon Adventures
. She is the mother of
Rhoda Queen
and appears in the
Fox Trot
episode segment,
Can't Buy Me Love
. She is voiced by
Sally Struthers
.
Appearance
Like many of the other parents on the show, Rhoda's Mother's face is never shown, but she is shown to wear a light blue dress with black shoes.
History
In her one-time appearance, Rhoda's Mother is seen unpacking boxes. When she goes to see how she and Elmyra were doing, Rhoda tricks her into thinking she is playing nicely with Elmyra, and wants to go to her house to play with her, to which she agrees.
Ad blocker interference detected!
Wikia is a free-to-use site that makes money from advertising. We have a modified experience for viewers using ad blockers

Wikia is not accessible if you've made further modifications. Remove the custom ad blocker rule(s) and the page will load as expected.