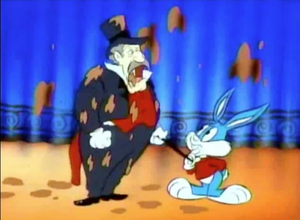 Presto the Great is a minor character on Tiny Toon Adventures. He is a magician who performs at children's parties. He is voiced by Joe Alaskey.
Presto appears in the You Asked For It episode segment, Sleight of Hare as the magician for Montana Max's birthday party. Buster Bunny gets a job as Presto's rabbit. Monty ruins the show and causes Presto to quit and become a dentist, costing Buster his job as well. Using his magic kit, Buster gets revenge on Monty.
Ad blocker interference detected!
Wikia is a free-to-use site that makes money from advertising. We have a modified experience for viewers using ad blockers

Wikia is not accessible if you've made further modifications. Remove the custom ad blocker rule(s) and the page will load as expected.