"I've got good news and bad news, the good news is, your joke died, the bad news is, who cares?"
This article is of a cast or crew member who worked on Tiny Toon Adventures who has unfortunately passed on, and is written from a real world perspective.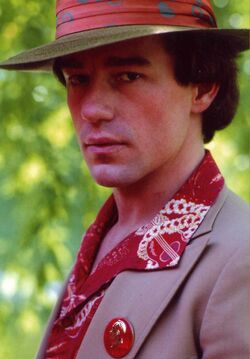 Phillip Edward "Phil" Hartman (September 24, 1948 - May 28, 1998) was a Canadian comedian, actor, graphic artist, screenwriter, and voice artist, best known for his time on Saturday Night Live, and the voices of such characters as Lionel Hutz and Troy McClure in The Simpsons.
He provided the voice of the lead octopus, Octavius, in the episode, Whale's Tales, essentially reusing his Cap'n Carl voice from Pee-Wee's Playhouse.
On May 28, 1998, Phil was shot and killed by his wife, Brynn.
Role(s)
Ad blocker interference detected!
Wikia is a free-to-use site that makes money from advertising. We have a modified experience for viewers using ad blockers

Wikia is not accessible if you've made further modifications. Remove the custom ad blocker rule(s) and the page will load as expected.