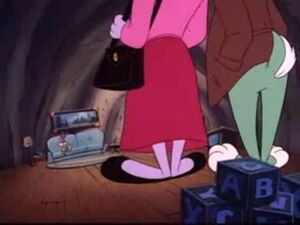 Mr. and Mrs. Potter
are the parents of
Duncan Potter
. They appear in the
The Acme Home Shopping Show
episode segment,
I Was a Teenage Bunnysitter
. Mrs. Potter is voiced by
Cree Summer
, while Mr. Potter doesn't speak.
Looks
Mrs. Potter is shown to have purple fur, like her son, and wear a pink blouse, a red skirt, and black shoes. Mr. Potter is shown to have green fur and wear a brown coat. Like many of the parents on Tiny Toon Adventures, Mr. and Mrs. Potter are shown from the neck down.
Appearance on the Show
In I Was a Teenage Bunnysitter, Mrs. Potter informs Babs, who she has hired to babysit Duncan, that Duncan is in his room, and she and her husband are on their way to the movies. As soon as they leave, Babs raids the fridge and makes a tall sandwich, then talks to Harriet about her babysitting job. Mr. and Mrs. Potter are seen again at the end of the short, where Mrs. Potter asks Babs if Duncan was any trouble, only for her and her husband to find Babs asleep on the couch while Duncan talks to Harriet on the phone while eating a sandwich.
Ad blocker interference detected!
Wikia is a free-to-use site that makes money from advertising. We have a modified experience for viewers using ad blockers

Wikia is not accessible if you've made further modifications. Remove the custom ad blocker rule(s) and the page will load as expected.