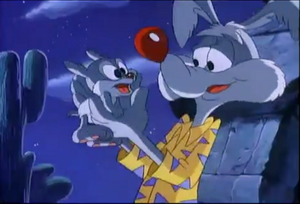 Mr. Coyote is the non-speaking father of Calamity Coyote . who only appears in the episode Psychic Fun-omenon Day segment Piece of Mind.
Appearance
Mr. Coyote is shown to be grey fur Coyote (also looks like a older version of Calamity) wearing a yellow Pajamas with purple triangles on them.
History
During Calamity's flashback, after the stork dropped him in front of his house, Mr. Coyote picked him and does the "Goochie-Goochie-Goo" to him, only to have his son bite his fingers. As Mr. Coyote was playing with his son, another stork drop another baby, This time Little Beeper, and landed in his hand, next to Calamity and as he put down Calamity on the ground, he sees his son chasing Beeper. Years later Mr. Coyote was given a new job located in Acme Acres near the city and him and Calamity moved.
Trivia
Ad blocker interference detected!
Wikia is a free-to-use site that makes money from advertising. We have a modified experience for viewers using ad blockers

Wikia is not accessible if you've made further modifications. Remove the custom ad blocker rule(s) and the page will load as expected.