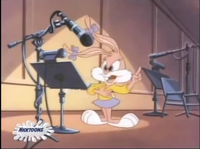 "This script stinks! It needs more comedy beets!"
This article is of a cast or crew member who worked on Tiny Toon Adventures who is still living to this day, and is written from a real-world perspective.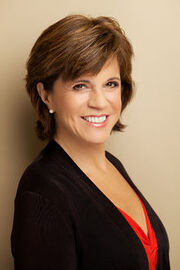 Maggie Roswell (born November 14, 1952) is an American film/television actress, producer, writer and voice artist from Los Angeles, California. She is well known for her voice work on the Fox network's animated television series The Simpsons, in which she has played recurring characters such as Maude Flanders, Helen Lovejoy, Elizabeth Hoover, and Luann Van Houtan, as well as several minor characters. This work has earned her both an Emmy Award nomination and an Annie Award nomination. In 1990, Roswell guest appeared on Tiny Toon Adventures in the episode Hollywood Plucky as Mary Vain.
Outside of acting
In 1994, Roswell and her husband Hal Rayle moved from Los Angeles to Denver to raise their daughter. Together they established the Roswell 'n' Rayle Company, creating, writing, producing, and voicing advertisements for companies. They established "The Roswell 'n' Rayle Company" for this purpose by utilizing digital media to make it available for delivery and the production quality that they have created is a new source of entertainment for the mobile masses, and built a recording studio in their basement.
Roles
External links
Ad blocker interference detected!
Wikia is a free-to-use site that makes money from advertising. We have a modified experience for viewers using ad blockers

Wikia is not accessible if you've made further modifications. Remove the custom ad blocker rule(s) and the page will load as expected.