"I've got good news and bad news, the good news is, your joke died, the bad news is, who cares?"
This article is of a cast or crew member who worked on Tiny Toon Adventures who has unfortunately passed on, and is written from a real world perspective.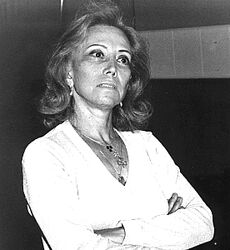 June Foray (September 18, 1917 - July 26, 2017) was an American voice actress. Throughout her career, she provided her voice for works by Warner Bros., Disney, Jay Ward, and many others. Among her best known characters include Granny, Witch Hazel, Rocky the Flying Squirrel, and Natasha Fatale. She remained active in voice acting all the way up to her death in July 2017, with her final roles being in The Looney Tunes Show on Cartoon Network and the 2014 Rocky and Bullwinkle short. She played Granny on Tiny Toons as well.
Roles
Ad blocker interference detected!
Wikia is a free-to-use site that makes money from advertising. We have a modified experience for viewers using ad blockers

Wikia is not accessible if you've made further modifications. Remove the custom ad blocker rule(s) and the page will load as expected.