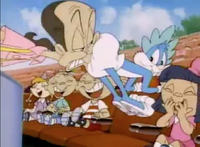 "Excuse me, little boy, are you having trouble finding your seat?"
"Nope, it's wight hewe."
This article is about the actor.
You may be looking for the character of the same name.
"I've got good news and bad news, the good news is, your joke died, the bad news is, who cares?"
This article is of a cast or crew member who worked on Tiny Toon Adventures who has unfortunately passed on, and is written from a real world perspective.
Henry "Henny" Youngman (March 16, 1906 - February 24, 1998)  was a British/American comedian and violinist from the Borscht Belt in the Catskills in New York. His nickname by many was "The King of One-Liners". He was the originator of the standby "Take my wife, please!"
Henny voiced his namesake in Henny Youngman Day.
On February 24, 1998, Henny died of pneumonia at the age of 91. He was buried at The Mount Carmel Cemetery in Glendale, New York, right next to his wife, Sadie.
Role(s)
Ad blocker interference detected!
Wikia is a free-to-use site that makes money from advertising. We have a modified experience for viewers using ad blockers

Wikia is not accessible if you've made further modifications. Remove the custom ad blocker rule(s) and the page will load as expected.