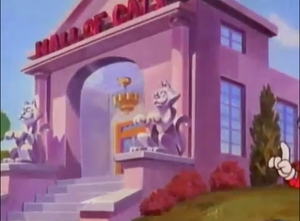 The Hall of Cartoon Cats is a museum that appears in Test Stress episode segment, Li'l Sneezer. It is dedicated to famous feline cartoon stars, particularly Sylvester.
About
The Hall of Cartoon Cats is place that honors all comedic cartoon cats and their achievements. 
Appearance
The Hall of Cartoon Cats looks like a one-story buliding with two stone cats in the front.
Trivia
Some of the cartoon cats in the museum are parodies of real famous cartoon cats.

Helix: Felix
Garfunkle: Garfield
Tom Injury: Tom from Tom and Jerry
Gallery
Ad blocker interference detected!
Wikia is a free-to-use site that makes money from advertising. We have a modified experience for viewers using ad blockers

Wikia is not accessible if you've made further modifications. Remove the custom ad blocker rule(s) and the page will load as expected.