"I've got good news and bad news, the good news is, your joke died, the bad news is, who cares?"
This article is of a cast or crew member who worked on Tiny Toon Adventures who has unfortunately passed on, and is written from a real world perspective.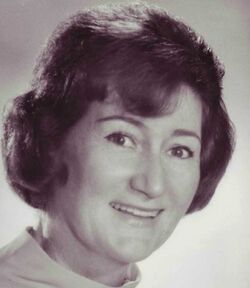 Fran Ryan (November 29, 1916 - January 15, 2000) was an American character actress featured in television and films. She was born in Los Angeles, California.
She voiced Grandma Duff in Tiny Toon Adventures.
Career
Fran appeared in many feature films, including Big Wednesday (1978), as Frank & Jesse James' mother in The Long Riders (1980), Take This Job and Shove It (1981), Pale Rider (1985), Chances Are (1989), and a cameo appearance in 1981's Stripes starring Bill Murray, as a cab fare to Murray as the cabbie, in the opening scenes of the film. Ryan made many guest appearances on TV shows, including Batman (episode 43), Adam-12, CHiPs, Three's Sompany, Quantum Leap, Night Court, Taxi, Baywatch and The Commish.
Death
Fran died at the age of 83 on January 15, 2000. She is buried in the family plots alongside her mother at the Holy Sepulchre Catholic Cemetery in Hayward, California.
Role(s)
External links
Ad blocker interference detected!
Wikia is a free-to-use site that makes money from advertising. We have a modified experience for viewers using ad blockers

Wikia is not accessible if you've made further modifications. Remove the custom ad blocker rule(s) and the page will load as expected.