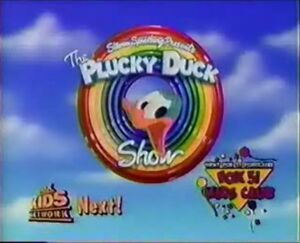 Fox Kids was the Fox Broadcasting Company's American children's programming division and brand name from September 8, 1990 until September 7, 2002. It was owned by Fox Television Entertainment airing programming on Monday–Friday afternoons and Saturday mornings.
Depending on the show, the programming block was aimed at young children, aged 7–11, and preteens ages 12–14. It continued to run repeats until September 7, 2002. At that time, Fox put the time Slot up for bidding, with 4Kids Entertainment winning and securing Saturday morning programming.The network had managed to achieve high ratings throughout its 12 year run and lived to be the longest running children's television block/network, alongside Nickelodeon, until the record was surpased by Kids' WB! in 2008, which closed after 13 years.
Beginning with the third season, Tiny Toon Adventures finished its run on Fox Kids, having moved there from syndication. The move to Fox was a major point of satire in the episode "Fox Trot".
Ad blocker interference detected!
Wikia is a free-to-use site that makes money from advertising. We have a modified experience for viewers using ad blockers

Wikia is not accessible if you've made further modifications. Remove the custom ad blocker rule(s) and the page will load as expected.