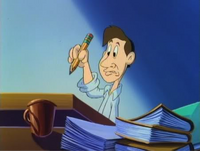 "It's hopeless. I don't even know where to start!"
This article is a stub. You can help Tiny Toon Adventures Wiki by expanding it.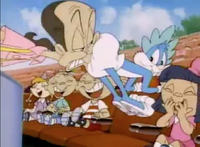 "Excuse me, little boy, are you having trouble finding your seat?"
"Nope, it's wight hewe."
This article is about the Tiny Toon Adventures character.
You may be looking for the Looney Tunes character.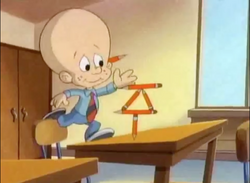 Egghead, Jr.
is a minor character on
Tiny Toon Adventures
. He appears in the
Son of Looniversity Daze
episode segment,
Plucky's Dastardly Deed
.
Trivia
Egghead Jr. is based on the obscure Looney Tunes character, Egghead. The only slight difference is that the former's head is a bit larger and his nose is smaller. The latter was never officially seen on Tiny Toon Adventures.
Gallery
Ad blocker interference detected!
Wikia is a free-to-use site that makes money from advertising. We have a modified experience for viewers using ad blockers

Wikia is not accessible if you've made further modifications. Remove the custom ad blocker rule(s) and the page will load as expected.