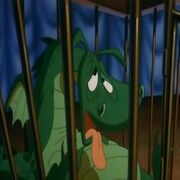 Dragon
is a minor character on
Tiny Toon Adventures
. His only appearance is in the episode,
Sawdust and Toonsil
. He is friends with
Gogo Dodo
,
Sphinx
and
Pegasus
, and lives wit them in
Wackyland
.

He is captured along with Sphinx, Pegasus and later, Gogo Dodo, by
Silas Wonder
, the greedy owner and ringmaster of the traveling circus,
Silas Wonder's Wonderful Circus of Wonderment
. Silas uses the unique creatures from Wackyland as main attractions for his show. Dragon and his friends lost most of their wackiness due to the fact that they have not been in Wackyland for quite some time.
Buster
,
Babs
, and
Plucky
help free them, escape Silas' evil clutches, and return them to Wackyland, where they get their wackiness back.
Ad blocker interference detected!
Wikia is a free-to-use site that makes money from advertising. We have a modified experience for viewers using ad blockers

Wikia is not accessible if you've made further modifications. Remove the custom ad blocker rule(s) and the page will load as expected.