"I've got good news and bad news, the good news is, your joke died, the bad news is, who cares?"
This article is of a cast or crew member who worked on Tiny Toon Adventures who has unfortunately passed on, and is written from a real world perspective.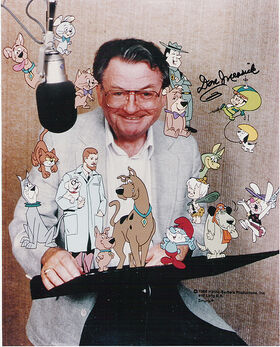 Donald Earl "Don" Messick
(September 7, 1926 - October 24, 1997) was an American voice actor, best known for voicing Scooby-Doo in the series of the same name.
He voiced Hamton J. Pig, Bosko, and The Gremlin in Tiny Toon Adventures'.
Don (aged 71) died of a stroke on October 24, 1997. He was cremated, and his ashes were scattered at sea.
Upon Don's death, Billy West took over and voiced Hamton for the Playstation 1 video game, Toonenstein: Dare to Scare and the unreleased Playstation 2 video game, Defenders of the Universe.
Roles
Ad blocker interference detected!
Wikia is a free-to-use site that makes money from advertising. We have a modified experience for viewers using ad blockers

Wikia is not accessible if you've made further modifications. Remove the custom ad blocker rule(s) and the page will load as expected.