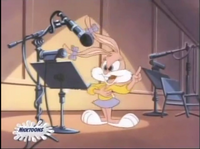 "This script stinks! It needs more comedy beets!"
This article is of a cast or crew member who worked on Tiny Toon Adventures who is still living to this day, and is written from a real-world perspective.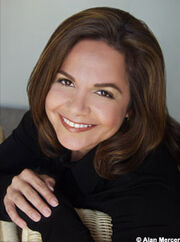 Candice Anne Rose "Candi" Milo (born January 9, 1961) is an American voice actress and singer.
Over the years of voice acting, Candi is perhaps best known to voice such female characters as Coco and Madame Foster Foster's Home for Imaginary Friends, Irma Lair on Disney's W.I.T.C.H., lead character Maya Santos on Maya & Miguel, the punk rocker/goth protégée Ophelia Ramírez on The Life and Times of Juniper Lee, Nora Wakeman in My Life as a Teenage Robot, and Zadavia in Loonatics Unleashed. She is also known to voice male characters, such as Nick Dean on The Adventures of Jimmy Neutron: Boy Genius, Cheese on the aforementioned Foster's Home For Imaginary Friends, Jacobo on Disney's The Replacements, Astro Boy from the 2003 Astro Boy cartoon series, and Dexter from Dexter's Laboratory (seasons 3 and 4, replacing Christine Cavanaugh after her retirment).
Milo is famous for voicing a majority of characters with a thick Spanish accent.
She voiced Sweetie Bird on Tiny Toon Adventures.
Roles