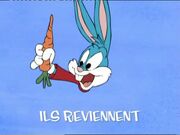 Boomerang is a 24-hour American cable television channel from Cartoon Network owned by Turner Broadcasting System, a division of Time Warner. Boomerang specializes in reruns of animated programming from Time Warner's extensive archives, including pre-1986 MGM, Hanna-Barbera, Cartoon Network, Warner Bros. Animation, a portion of Famous Studios, and DePatie-Freleng Enterprises programs, stretching from cartoon shorts of the 1930s and 1940s (almost always in color) to repeats of shows still in production on Cartoon Network. It started out as block channel for Cartoon Network in December 8, 1992, until Boomerang began to have its own channel in April 1, 2000. Tiny Toon Adventures ran on Boomerang from 2000–2006 and again, one more time on December 17, 2011 with the episode, It's a Wonderful Tiny Toons Christmas Special.
Promo Pictures
Ad blocker interference detected!
Wikia is a free-to-use site that makes money from advertising. We have a modified experience for viewers using ad blockers

Wikia is not accessible if you've made further modifications. Remove the custom ad blocker rule(s) and the page will load as expected.