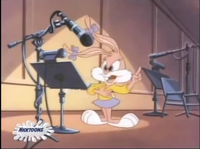 "This script stinks! It needs more comedy beets!"
This article is of a cast or crew member who worked on Tiny Toon Adventures who is still living to this day, and is written from a real-world perspective.
William Richard "Billy" West
(born April 16, 1950) is an American voice-actor and comedian, best known for his voice roles in 
Ren & Stimpy, Futurama, The Howard Stern Show,
and
Doug
.
He occasionally voices Bugs Bunny in projects such as Space Jam and can currently be heard as Elmer Fudd on The Looney Tunes Show.
After Don Messick died in 1997, some new Tiny Toons video games were in development, some of which included Hamton as a character. Billy replaced Don for the PlayStation game Toonenstein: Dare to Scare and the ultimately cancelled Tiny Toon Adventures: Defenders of the Universe.
Roles
Ad blocker interference detected!
Wikia is a free-to-use site that makes money from advertising. We have a modified experience for viewers using ad blockers

Wikia is not accessible if you've made further modifications. Remove the custom ad blocker rule(s) and the page will load as expected.