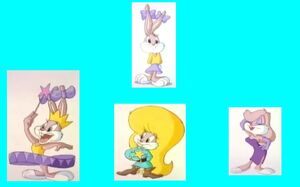 Babs' Impressions is one of the many continuous running gags of Tiny Toon Adventures. It centers around Babs always changing into celebrities and other people, sometimes even mimicking their personalities.
About
Being one of many females characters to have a unique wacky personality that compared to those apart from their Looney Tunes counterparts, Babs dreams of being the funniest toons in history. so much that she was created to be a female performer/impressionist.who will do nearly anything for a laugh.
Times she does her Impressions for laughs
In the episode, Her Wacky Highness, Babs first makes fun of Elmer Fudd by doing her Joan Rivers voice impression, then She imitates Elmer Fudd as Elvis Presley and even sings with the same speech pattern as Elmer.
In the Pledge Week episode segment, It's All Relatives, Babs spends the day doing impressions for her mother and her visiting grandmother. Among her impressions are Yogi Bear, Charlie Brown, Popeye, Roger Rabbit, Marge, Bart, and Maggie Simpson from The Simpsons.
In the Henny Youngman Day episode segment, Stand up and Deliver, she does a few of her impressions in front of her friends to warm up for open mic-nite at the Acme Improv. Her impressions include Robin Leech, Quasimodo, and even the Energizer Bunny.
Times her Impressions saved her and/or her friends
In Tiny Toon Adventures: How I Spent My Vacation, Babs uses one of her impressions (dressed like a fireworks salesman), to rescue Buster when he is forced to marry The Boo Sisters. Another impression in same speical is when she uses her impressions to turn into both a Shirley Temple look-alike and a Lucy Ricardo look-alike when they board Captain Tupelo Toad's ship, The Delta Bruck, who was about to kick them off his ship.
Times her Impressions got her and/or her friends in trouble
In the The Buster Bunny Bunch episode segment, Born to be Riled, Babs gets into trouble with Both Shirley and Fifi by making fun of them (Such as making fun of Fifi's affection for boys, and Shirley's voice and her "past lives"). She recieves her comeuppance when everybody she made fun of yesterday does a mock impression of her, to the point where they even wear her clothes and pink bunny ears.
In the episode, Her Wacky Highness, Babs was sent to the principal's office for imitating Elmer and his voice while on his desk and singing, "Sometimes, I wonder what I'm a gonna do, but there ain't no cure for the Elmer Fudd blues." She even got her classmates in trouble when Elmer gave them a Pop Quiz. After pretending to cry and beg to the Principal in hopes he'll let her off the hook, which sadly doesn't work, she was sent home early and was given a note to give to her mother, who then told her to go to her room to study and learn self-control.
Trivia
According to an interview with Maurice LaMarche, Tress MacNeille, the voice actress of Babs, as well as her impressions of Plucky, Dizzy, Shirley and Fifi in the The Buster Bunny Bunch episode segment, Born to Be Riled was almost spot-on that to the point that he, Joe Alaskey, Gail Matthius, and Kath Soucie were afraid that the studio would fire them and have Tress take their spots.
Ad blocker interference detected!
Wikia is a free-to-use site that makes money from advertising. We have a modified experience for viewers using ad blockers

Wikia is not accessible if you've made further modifications. Remove the custom ad blocker rule(s) and the page will load as expected.