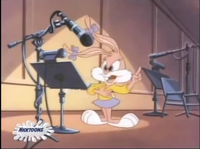 "This script stinks! It needs more comedy beets!"
This article is of a cast or crew member who worked on Tiny Toon Adventures who is still living to this day, and is written from a real-world perspective.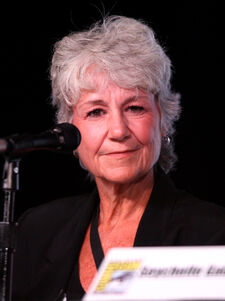 Andrea Romano is an American casting director, voice director, and voice actress, whose work includes casting, and voice directing Batman: The Animated Series, Tiny Toon Adventures, Animaniacs, Pinky and the Brain, Teen Titans, Avatar: The Last Airbender, The Legend of Korra, and multiple DCAU direct-to-video films, Her voice acting, as of 2010, consists of minor roles in television series, direct-to-video films, and video games.  Despite the identical surname and similar career path, she is not related to fellow voice actor Rino Romano.  
For Tiny Toon Adventures, she voiced herself in the episode Toons Take Over under the name "Andrea Romano the Magnificent".
Role
Gallery
Ad blocker interference detected!
Wikia is a free-to-use site that makes money from advertising. We have a modified experience for viewers using ad blockers

Wikia is not accessible if you've made further modifications. Remove the custom ad blocker rule(s) and the page will load as expected.