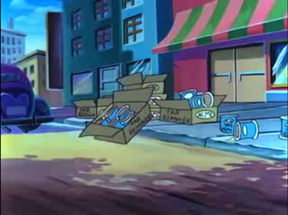 The Acme Tar Remover is an Acme Company Product that was purchased by Calamity Coyote in the Dating, Acme Acres Style episode segment, Love Stinks.
About
The Tar Remover is create to remove unwanted tar from any surface.
History
Having getting fed up with Fifi's affection towards him, Calamity purchased boxes of Tar Remover inorder to wash away the Tar that made him look like a skunk.
Ad blocker interference detected!
Wikia is a free-to-use site that makes money from advertising. We have a modified experience for viewers using ad blockers

Wikia is not accessible if you've made further modifications. Remove the custom ad blocker rule(s) and the page will load as expected.