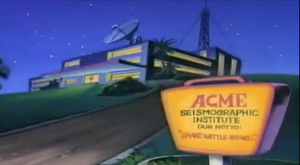 The Acme Seismography Institute is a place where Buster and Babs go to find out what is causing the earthquakes. This place has only appeared in the episode, Journey to the Center of Acme Acres. Elmer Fudd works there, and tells people what causes the earthquakes.
Ad blocker interference detected!
Wikia is a free-to-use site that makes money from advertising. We have a modified experience for viewers using ad blockers

Wikia is not accessible if you've made further modifications. Remove the custom ad blocker rule(s) and the page will load as expected.