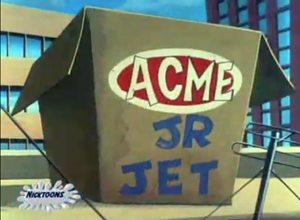 The Acme Jr. Jet is an Acme Company Product that was purchased by Calamity Coyote in the Dating, Acme Acres Style episode segment, Love Stinks.
Design
The Jr. Jet is shown to be a miniature version of a normal jet.
History
Up on the tallest buliding, Calamity has just put on the finishing touches of the Jr. Jet. While looking to see Little Beeper, who mistakes the "X" for a hopscotch line, Calamity begins to launch the Jr. Jet. Unknown to him, Fifi appears looking for her dream skunk. When she notices Calamity in the Jet, she mistakely thinks he will "Fly into her heart", only to have it miss her. Just as Calamity is about to capture Beeper, Fifi somehow gets a hold on the remote and reroutes the Jet to come to her. Calamity then takes the remote and tries to use it to send him back to get Beeper, only to have it smash him into a brick wall.
Gallery
Ad blocker interference detected!
Wikia is a free-to-use site that makes money from advertising. We have a modified experience for viewers using ad blockers

Wikia is not accessible if you've made further modifications. Remove the custom ad blocker rule(s) and the page will load as expected.